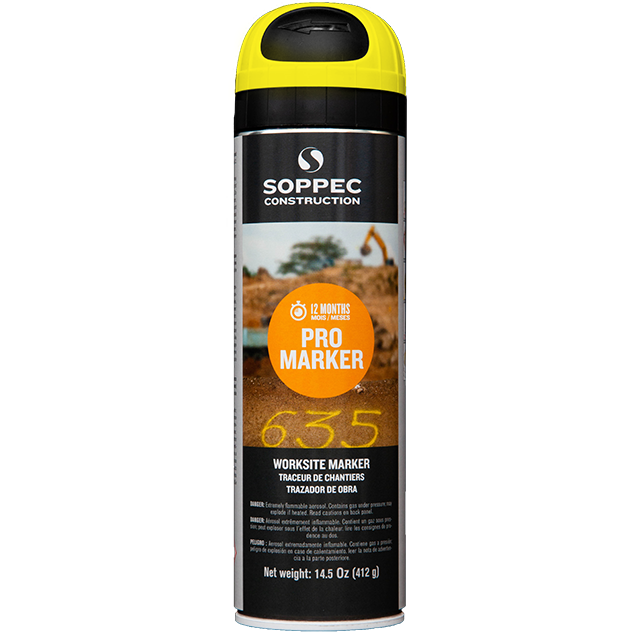 SOPPEC Construction
SOPPEC Construction Non Fluorescent Worksite PRO Marker
---
THE LONG-LASTING NON-FLUORESCENT SITE MARKER
Promarker is used for various marking/tracking work in addition to fluorescent tracers: roads, road signs, earthworks, pipes, constructions, electrical installations. Thanks to its excellent covering power, it effectively hides markings. Easy and safe to use, the Pro Marker is equipped with Soppec's patented "TP" safety cover.
PRO MARKER PROPERTIES
Excellent adhesion to various substrates (even wet): concrete, bitumen, sand, wood, grass, etc.

Very resistant safety cap (no breakage when a full aerosol is dropped from 1.50 m)

Quick drying: about 10 mins

Very good covering power

Marking duration: more than 12 months (depending on substrates and application conditions), high weather and UV resistance

Operating temperatures: -20°C to 50°C

Wide range of colors including white and brown meet the identification standard for buried networks NF P 98-332.
A PATENTED SAFETY COVER





COMPOSITION OF THE PRO MARKER
Binder: acrylic.
Pigments: mineral and organic without heavy clamps.
Solvents: complex mixture free of chlorinated solvents and aromatic compounds.
Propellant gas: specific isobutane and propane mixture.
HOW TO APPLY PRO MARKER
BEFORE USE: Shake well upside down.
AFTER USE: purge head up.
---
Share this Product
---
More from this collection